Would you like your Sim to excel in the corporate environment? If so, then you can totally benefit from salaryperson career cheats! Continue reading to find out how to unlock cheats, level up, and improve essential skills needed for advancing in this career!
what is salaryperson career in sims 4?
If you are a fan of corporate settings, then you'll find that Salaryperson career is a real treat. This career track was featured in the Sims 4: Snowy Escape expansion pack. It has 10 levels and two cool branches for Sims to explore: the Expert branch and the Supervisor branch.
On this journey to success, they are expected to excel in three skills out of four skills associated with the career. On top of that, they expect to keep their focus as sharp as possible. Fortunately, salaryperson career cheats can help you reach these career milestones in no time!
More on SNOOTYSIMS: GETTING SIMOLEONS FROM ROYALTIES!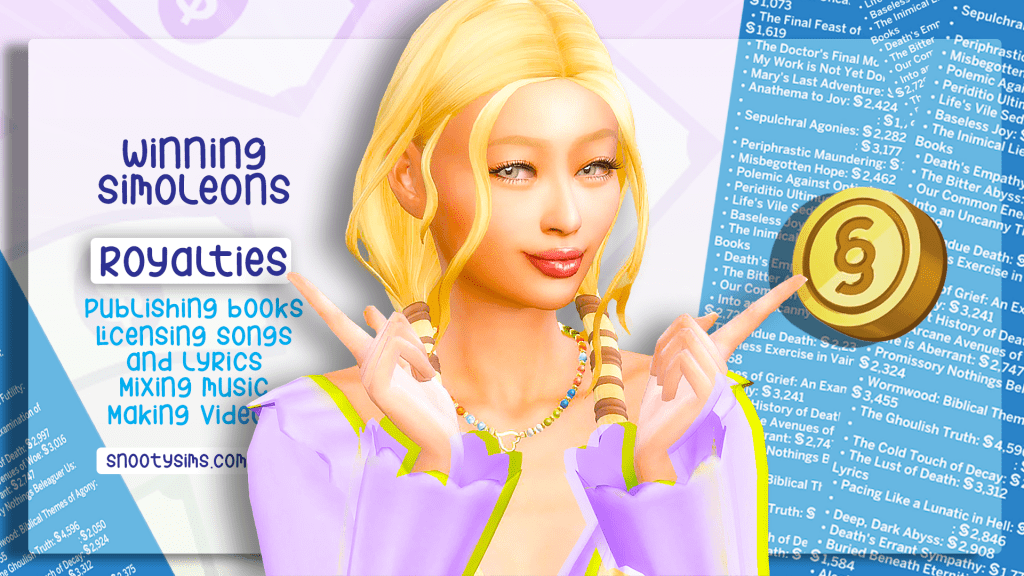 What are the pros of using Salaryperson career cheats?
If you want to guide your Sim down this career path, get ready to roll up your sleeves. This field asks for maximum expertise, and cheats will help you reach the highest levels in both branches in just a few minutes. You can use them to rank up, help them acquire all skills needed, get them focused, and even unlock special reward traits. Now, onto the cheats!
How to enable cheats in Sims 4?
To use any kind of cheats in Sims 4, including salaryperson career cheats, it's essential to activate them first. Here is what you need to do:
The first step is to open the cheat dialogue box in the upper left corner of your screen. You can do so by simultaneously pressing the following buttons:
If you play on PC – CTRL+SHIFT+C
If you play on Mac – COMMAND+SHIFT+C
If you play on PlayStation – R1 + R2 + L1 + L2
If you play on Xbox: RB + RT + LB + LT
Type testingcheats true, and press Enter. This will enable cheating in your game till the end of your gameplay session! All you need to do now is start typing your salaryperson career cheats.
Ever heard of the Sims 4 Banking mod? It's a valuable financial system for the game. We totally recommend downloading it. Learn all about it by following this link.
skip salaryperson career levels with this cheat!
Did you know that you can promote your Sims with just one salaryperson career cheat? To make your Sim advance to the next level, type careers.promote CorporateWorker.
This cheat will make them level up only one career level at a time. For instance, if you want to get them from level 1 to level 4, you will need to type these cheats three times to get the desired result. Or, to get from level 1 to level 10, type the cheat 9 times, but make sure you don't forget to choose the branch after level 4. It's as simple as that!
Would you like to open a unique business in Sims 4? Check out the incredible Saleabration Retail System mod here!
how to help Sms learn ley skills using cheats?
Every Sim who dreams of reaching the highest levels of the salesperson carer will need to work on 4 key skills: logic and writing on starter levels, charisma for the Supervisor branch, and programming for the Expert branch. The good news is that you can save precious time and make them learn one or all of these skills using cheats. This is a great method for creating a strategic advantage and preparing them for the next promotion without skipping entire career levels. Here are useful salary person cheats for improving skills:
To improve logic skills – stats.set_skill_level Major_Logic #
To improve writing skills – stats.set_skill_level Major_Writing #
To improve programming skills – stats.set_skill_level Major_Programming #
To improve charisma skills – stats.set_skill_level major_Charisma #
How to use skill cheats: Replace "#" with any number from 1-10, depending on what skill level you want your Sim to reach. For instance, to reach level 10 of programming, type stats.set_skill_level Major_Programming 10 and hit Enter. Your Sim will max out this skill instantly. Use the same method for the logic and writing skills.
How to get Sim in the perfect mood for work using cheats?
The ideal mood for advancing in this field is Focused. The more focused your Sim is, the higher the chance they will reach the promotion threshold during their shift. To help them with that, try one of these mood cheats:
To get Sim focused – sims.add_buff EnergizedHigh
To get Sim focused for 12 hours – sims.add_buff e_buff_focused
Can I unlock salaryperson career reward traits with cheats?
Yes, you absolutely can! There are special salaryperson career cheats that can give you access to all reward traits in the game, including those from the salaryperson career. There are two reward traits Sims can acquire when ranking up the salaryperson career. The Charismatic Crooner reward trait is unlocked after completing level 4, while the Legendary Stamina reward trait is unlocked at level 10 of both the Expert branch and the Supervisor branch.
With cheats, your Sim doesn't even have to be employed in the field to unlock them! To unlock these two traits, all you need to do is type these salary person cheats:
Charismatic Crooner reward trait – traits.equip_trait trait_CorporateWorker_CharismaticCrooner
Legendary Stamina reward trait – traits.equip_trait trait_CorporateWorker_LegendaryStamina
Recap: All useful Salaryperson cheats
SALARYPERSON CAREER CHEATS
CHEAT EFFECT
testingcheats true
enables cheats
careers.promote CorporateWorker
triggers promotion
(one level at a time)
stats.set_skill_level Major_Logic #
levels up the logic skill
stats.set_skill_level Major_Writing #
levels up the writing skill
stats.set_skill_level Major_Programming #
levels up the programming skill
stats.set_skill_level major_Charisma #
levels up the charisma skill
sims.add_buff EnergizedHigh
makes Sim focused
sims.add_buff e_buff_focused
makes Sim focused for 12 hours
traits.equip_trait trait_CorporateWorker_CharismaticCrooner
unlocks Charismatic
Crooner reward trait
traits.equip_trait trait_CorporateWorker_LegendaryStamina
unlocks Legendary
Stamina reward trait