Babies play a big role in Sims 4. They're the center of every family in the game and you often spend much of your time and energy on them. But what if you can improve your overall experience? Well, that's totally possible with the best baby mods and CC for Sims 4!
We can all agree that we don't have the best versions of babies in TS4. There are far too many things missing to make this a really meaningful experience. Most of the time, caring for babies in Sims 4 is only causing headaches, so mods and custom content are really necessary.
And in this post, I'll go over the 20 best baby mods and CC for Sims 4 that will definitely improve your gameplay! These are all high-quality extensions that I recommend wholeheartedly!
Enjoy.
The Best Baby Mods and CC for The Sims 4
#11 Sims 4 Bad Parent Trait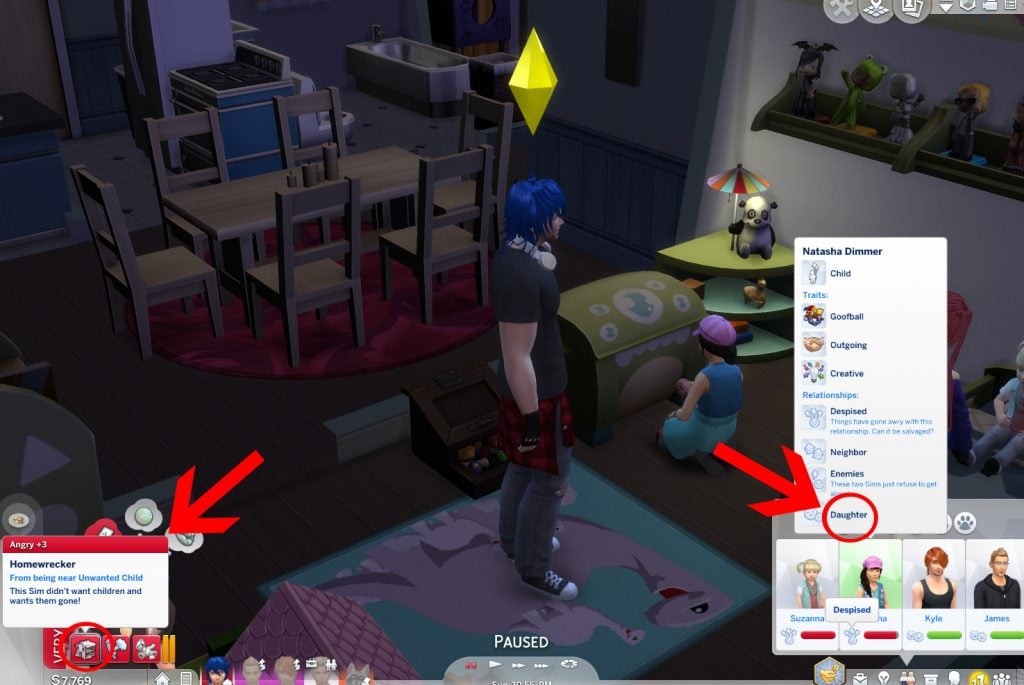 Up until now, I only talked about the best Sims 4 baby mods and CC in terms of how well they improve the gameplay. However, this is one of the most realistic mods I've ever tried for the game.
The Bad Parent Trait mod does exactly what its name suggests – it adds the possibility for your Sim to be a bad parent. These parents won't be as successful in raising babies as parents without this trait. And they're much more likely to make a mess while trying their best!
All in all, it's a great mode to try out.
#12 Sims 4 Ultrasound Scan Mod for Babies
One of the biggest joys that a parent might have is when they see their child with an ultrasound scan and when their child is born. This amazing mod by LittleMsSam allows your Sims to visit the doctor and get an ultrasound scan.
Additionally, the doctor will hand them the ultrasound scans in form of pictures that you can view. And the best of all is that you can put these photos on a wall in your home like a piece of decor item.
So get this mod and visit the gynecologist!
#13 More Baby Skin Options For Sims 4
If you aren't satisfied with how babies look in Sims 4, I recommend you to try out this mod. It gives you a bunch of options when it comes to your baby's skin. This includes a variety of skin colors and the amount of hair your baby will have.
This pack also adds eye colors, baby clothes, and even freckles. So, you can fully customize your baby just with this mod alone!
#14 Baby Skin 7 by NathaliaSims
Speaking of baby skins, here's another CC pack that might work well with your babies. This is just a simple CC pack that adds more skin options to the game and nothing else.
Here you will get light and dark skin colors for your baby, as well as a green and a blue one. They look very good in-game, so make sure you give them a try.
#15 Better Babies & Toddlers for Sims 4
Better Babies & Toddlers is one of the best Sims 4 baby mods on the internet. This is a complete baby and toddler experience for the game intended to fill all the gaps left by the games' developers.
For example, your Sims now get different moods when talking to their babies. They can also get a paid leave when their baby is born. But there are also new systems and new moods added to make the gameplay really exceptional.
And if there's one mod I'd download from this list, it's this one!
#16 Default Baby Skins & Outfits
If you're tired of the generic and unoriginal way the babies look in Sims 4, I recommend using this mod. It's a large collection of Sims 4 baby clothes and skin overlays that significantly improve the look of your babies.
There are so many clothing options for both male and female babies. Some clothes have animals in their design and some are just in colors. But all of them look beautiful nonetheless!
#17 S-Club ts4 WM Baby Pacifiers 202001
If there's one thing that unifies all babies in the world is their love for pacifiers. And to be honest, these are the cutest pacifiers that I've seen for Sims 4. They're done by S-Club who initially shared them at TheSimsResource.
Here you have one design of pacifier – a bear head. However, you have tons of color versions to choose from. And whether it's purple, pink, blue, green, or red, your male or female baby will definitely enjoy it!
#18 Newborn Animation Pack for Sims 4
I've always thought that the babies in Sims 4 look a bit too unnatural when they're sleeping. And when I first discovered the Newborn Animation Pack I was totally shocked!
This extension adds new baby animations to the game. Now your baby will turn while sleeping, but it will also move its hands and arms. The animations look really realistic, so you should definitely check them out in-game.
#19 Meeting new siblings will change relationship
Here's a funny one. Up until this point, when siblings first come in contact with a baby, they express their love and acceptance no matter what. However, things aren't always like that in the real world.
That's why Szemoka has created this mod which allows children to also have negative moodlets when first interacting with a newborn. This will influence their relationship later too.
#20 Solace Baby Swing – TS3 to TS4
And lastly, we have the brilliant baby swings brought back to TS4 from TS3! This mod adds a functional baby swing to your game that you can use whenever you want.
It's a base game-compatible item that doesn't require anything else. You can have it for 10 simoleons only and it's available in 14 different colors. So, let your babies swing!
Still not enough?
Still not enough? Then have a look at our list of the most awesome babycribs mods for The Sims 4!
Follow this link to find the best pregnancy cc and mods. If you're looking for the Teen Pregnancy Mod, be sure to check out this post!