Are you running out of interesting last names for your families? Worry not, as we have plenty of cool last names for Sims for you! Read on to find out the coolest surnames for your characters and fast ways you can come up with creative name ideas in just a few clicks!
Last Names For Sims: The Power of a good family name
Last names for Sims are a big part of their identity. After all, choosing a proper name for their storyline and personality is a big part of who we want them to be. No matter if you just started playing Sims for the first time, or you are a long-term Simmer with serious experience under your belt, you likely experienced a brain freeze when you try to come up with names for your Sims.
You have likely found yourself running around in circles, trying to come up with creative ideas, without being repetitive or choosing a celebrity last name once again. The pain is real and we have all been there. But, here is some great news: There are a couple ways you can keep it fresh when making new households or editing old ones.
So, if you'd like to know more and this has grabbed your attention, welcome aboard! Here comes an extensive list of last names for Sims you can always resort to, as well as some shortcuts that will help you name Sims.
Your List of LAST NAMES for Sims: Cute, Powerful, Exotic, Royal and more
We made a collection of last names for Sims, fictional and from around the world, to assist you whenever you need creative ideas. Some sound cute, some mighty and royal, and others are suited to green thumbs, business folks, or artistic Sims. Some are perfect for evil and occult Sims, while others are fit for lovely families. So, this is your ultimate list of last names for Sims, from A to Z:
A
Ainsworth
Amber
Arms
Auburn
Atkins
Aarons
Ashby
Aidou
Adorno
Affolter
Applejuice
Abbatiell
Abel
Aberman
Adey-Jones
Agar-Elis
Ajax
Acreman
Acuna
Alistock
Anderson
Alan
Atkinson
Antonov
Araragi
Abrahams
Abramowicz
Accordino
Axton
Agostino
B
Bates
Basquiat
Braun-Bogdan
Bulver-Lytton
Burnell-Nugent
Byrne
Booker
Boyd
Baker
Blackeye
Buford
Burton
Briggs
Bellamy
Becket
Borg
Bright
Birdwhistle
Brown
Bludd
Brooks
Bexley
Bryce
Buckingham
Bell-Irving
Berners-Lee
Bancroft
Berrycloth
Bardot
Babson
C
Cowan-Dickie
Cassidy
Caswell
Campbell
Culpepper
Clover
Cromwell
Creepsley
Cadiz
Cavallaro
Cohen
Courtlandt
Curie
Chapman
Czapski
Cupcakes
Chadwick
Cabanas
Cabbage
Cazier
Cooper
Cody
Coxon
Cherrie
Capparelli
Corbyn
Cornish
Caillier
Carota
Carosella
D
D-Agata
Da Cruz
De Palma
Del Campo
Day-Lewis
Dewitt
Doyle
Dawson
Davidson
Digby
Durant
Darcy
Davidov
Dankworth
Dalton
Damien
Darling
Duncan
Diamond
Derryberry
Drexel
Daisy-May
Dewdrop
Denatos
Desperado
Dodge
Dunn
Damewood
Doherty
Detherage
E
Eagleton
Earlywine
Eastburn
Easterwood
Ebanks
Eberlee
Eckart
Edgecomb
Edward
Eifel
Eiffert
Eis
Elis-Thomas
Eliot
El-Sayed
Elmo
Emerson
Enfield
Edelmann
Emenheiser
Engelhart
Eno
Ericsson
Edgecombe
Everston
Everly
Elias
Elingsworth
Evans
Esworthy
F
Fairfox
Falkenberg
Featherswallow
Fisher
Ford
Foster
Forbes
Finnegan
Finley
Fitzwilliam
Feller
Frostbutter
Fox
Fotos
Flair
Fletcher
Frost
Francezci
Falegeros
Faucher
Fabiani
Flatow
Fleegle
Flecker
Fonzie
Feller
Fang
Fleming
Frostbit
Fredieu
G
Gabo
Grey-Lawson
Grayson
Gryffon
Grimes
Gamble
Gables
Gerard
Greenberg
Garcia
Gee
Gable
Graver
Genji
Goodfella
Gun
Gates
Growthorne
Garfield
Gibson
Graham
Griffith
Gibbs
Gallegos
Grant
Grasshopper
Geese
H
Hall
Halifax
Hamilton
Hatt
Harrison
Hughes
Huntley
Hill
Hunter
Hutchinson
Howell
Hightower
Hawke
Harper Lee
Holland
Hyberion
Havelock
Hack
Huxley
Holloway
Honey
Holtz
Harlow
Hlton
Harmony
Hawke
Hemsworth
I
Ianni
Iakovlev
Ibrahimov
Iccarino
Ibanez
Idle
Iglesias
Iman
Imgrund
Imperioli
Ingram
Ionesco
Ivy
Ilonzeh
Indigo
Ingels
Irizarry
Isac
Innes
Ito
Ivory
Irby
Irons
Ireland
Irwin
Isay
Ishibashi
Ishida
Idris
Igatenko
J
Jackson
Jacobi
Jaffee
Jayness
Jannotta
January
Jasper
Jagger
James
Johansson
Jefferson
Jerome
Jerickson
Josefowitz
Joslyn
Jovial
Joyce
Jewel
Jennings
Jolie
Jenkins
Jiabao
Jillette
Jintao
Joy
Jellybean
Jenkins
Jazzmun
Jillian
Justice
K
Kane
Kapetan
Kao
Kapoor
Karen
Kay
Kazaurinsky
Korhonen
Kingston
Knowlton
Keating
Keaton
Keefer
Keegan
Keel
Kido
Kellaway
King
Knightley
Karnstein
Katz
Keating
Kelsey
Keith
Keys
Kellard
Konig
Kelly
Keller
Krul
L
Lackland
Langley
Lydon
Lindon
London
Lebowski
Lacy
Lyman
Laurent
Loughty
Lee
Lennon
Lopez
Lykaios
Lockhart
Lupino
Laney
Latos
Liberty
Lennon
Lane
Lafayette
Lenox
Lenkov
LaBeouf
Lange
Lancaster
Lagerfield
Lush
M
Macron
MacDowel
Maverick
Mayers
Mori
McKinley
Mckezie
Moreno
Minato
McCabre
Mansfield
Mckay
Mini
McDaddy
Mercury
McQuirky
Maximoff
Martini
Mallory
Mellody
Marshall
Mason
Mitchell
Morris
Murray
Madden
Mastrano
Moria
McAlpine
MacLaine
N
Nagel
Napier
Naplock
Napolitano
Napkins
Narcisso
Narmer
Nash
Nightingale
Nixon
Nuit
Napier
Neeson
Nelson
Newman
Newton
Negroponte
Netherway
Newfield
Newlands
Needles
Nobles
Norton
Norway
Nolan
Nesbitt
Nunn
O
O'Callaghan
O'Donnel
O'Sullivan
Oakey
Oatway
Oleander
Osbourne
Owens
Omo
Ogievich
Okamura
Oldman
Olander
Ottoman
Obleevier
Olivier
Orbinson
Orfeur
Oriell
Ormstone
Osbinstone
Osmond
Oseland
Otter
Overton
Oxborow
Oxford
P
Pace
Packwood
Paddock
Padley
Painter
Pastor
Prentiss
Peaches
Poverly
Pescod
Pettiford
Paleman
Panckridge
Pankerman
Papillon
Parbridge
Pheasant
Percy
Peyton
Parsley
Pierce
Petty
Paddington
Palmer
Parish
Parkinson
Peeps
Pitchfork
Preston
Phoenix
Palmer
Preston
Phoenix
Q
Quadir
Qazi
Quade
Queen
Quest
Quill
Quimby
Quintrell
Quelch
Quilling
Quarterman
Quilter
Quin
Quillen
Quinborow
Quiney
Quirke
Quilty
Quintaniella
Quirke
Quon
R
Rabbitt
Ramsey
Raynor
Rummage
Russel
Raven
Roth
Rojas
Ram-Morter
Rotten
Royce
Rowntree
Royale
Riley
Roa
Rosier
Raimone
Rampkin
Rourke
Regan
Ridley
Riddle
Rose
Rasmussen
Redmond
Redbun
Ramsey
S
Salisbury
Southwark
Spencer
Stewart
Saylor
Steel
Steelborne
Skorzeny
Stuckey
Sterling
Szymanowski
Silva
Selgado
Seavey
Sedford
Stark
Scarlet
Sutton
Salisbury
Saint
Sawyer
Snow
Sky
Sierra
Shepherd
Solace
Sanders
Shiki
Shepard
Salisbury
T
Talby
Tandye
Thompson
Thunderstorm
Trotter
Timbrell
Tingly
Travell
Tuelves
Thurston
Telleux
Templer
Tinsley
Tapesh
Tickle
Tisdale
Treadwell
Tully
Talcott
Thornton
Takano
Thatcher
Thornell
Thresher
Tomlins
Tudor
Tyson
U
Ufford
Upton
Underhill
Updyke
Ulrich
Uphill
Upshire
Urban
Urry
Upfold
Uberti
Udovich
Ulven
Urwin
Uxley
V
Valor
Veto
Vixen-Lee
Vanbrooke
Vizard
Vowells
Vixen
Van Der Veen
Valkazar
Valkyrie
Vellard
Vanderpoll
Vickeridge
Valderrama
Van Valkenburg
Varga
Varney
Volture
Valliant
Vergood
Veyerdoe
Valentini
Van Zeeland
Viale
W
Watkins
Walsh
Webb
Webster
Westminster
Whitlock
Westwood
Wainwright
Whitchrafte
Wylie
Willburn
Whitlock
Winchester
Wand
Wanzer
Washbourne
Wellbank
Wrecked
Winthrop
Whitloe
Watson
Wakes
Walder
Walkin
Wickins
Whitaker
Whitehorse
X
Xander
Xavier
Xantos
Xiang
Xinos
Xu
Xenos
Xia
Xanthaki
Y
Yardley
Yorke
Youth
Yoxon
Yablonski
Yarosh
Yorga
Yard
Yonwick
Young
Yamada
Yazel
Yumizuka
Yates
Yokins
Yamagata
Yeilding
Yori
Z
Zimmerman
Zelly
Zoomer
Zandi
Zachary
Zest
Zaccaro
Zara
Zinke
Zabala
Zamani
Zingler
This table of last names for Sims will always be at your disposal, so you always have a cool family name that fits the storyline you'll like to develop!
More on SNOOTYSIMS: Everything worth knowing about the premade families of the Sims 4!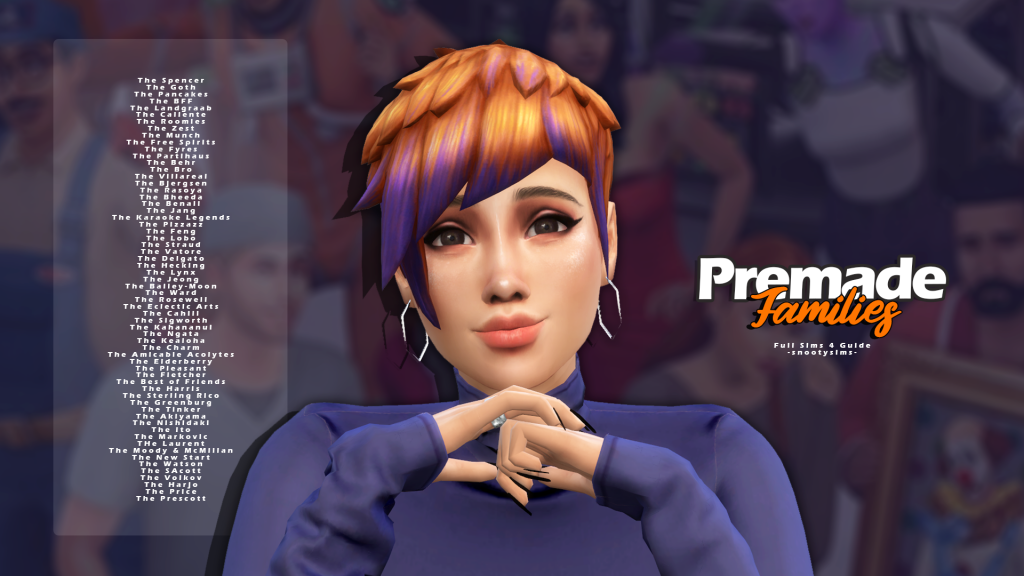 Can you change last names of existing sims?
We have listed a bunch of names for to-be-created families, but how about the existing Sims? Is there a way to give them one of the last names for Sims listed above (or any other)? Sure thing you can!
You can rename any Sim you want, and this can be easily achieved with cheats. Press SHIFT+CTRL+C to open a cheat box, type testingcheats true in the box and hit Enter to enable cheats. If you play on a console open the cheat box by simultaneously hitting all bumpers, and if you play on a Mac hit COMMAND+SHIFT+C and type the same chat.
To use any of the last names for Sims from the table above, or any other last name, you'll need to type cas.fulleditmode in that same cheat box and press Enter. This will allow you to edit your Sims beyond your usual CAS limits. SHIFT+click on the Sim whose name you want to change, and select Modify in CAS. This will open the CAS panel when you can fully edit your Sim and change their first or last name simply by deleting the old and typing a new one you like more. Once you've made all the changes, just confirm it by clicking on the checkmark in the bottom right corner and your Sim will start living life with a brand new identity!
Need a quick solution? Try Generating Sim Names Online!
Do you know that there is a page that helps you create random names for your Sims characters? Well, if you ever run completely out of ideas and need a couple of unique last names for Sims fast, you can always generate it using one of the online Sim-name generators!
For instance, you can get The Sims Random Name Generator here, or Name My Sim Generator here. These online tools don't only generate last names for Sims, but can also give you Sim's full names. So, you can generate random male or female names with just one click, and the program will give you a combo of the first and the last name for your Sim. This is especially handy if you need to create a family you don't care much about, but need them just for a specific gameplay scenario. Fast and easy!