There are lots of mods and custom content that affect the way Sims go to school. In this list, we've put together the best Sims 4 school mods that will make the game more challenging, fun, and exciting! How about the other mods and custom content for Sims 4? Take a look at our Comprehensive Guide on The Sims 4 Mods and CC for more useful information about these awesome creations that make The Sims 4 a more enjoyable game experience. But before that, here are the best Sims 4 school mods that you can use. Enjoy!
Table of Contents
The 10 Best School Mods
#1 Drop Out of High School and Get a Real Job Mod
Let us directly kick in with the first one! Are you feeling like you don't want to obey the rules of the world? And you know that nothing shows independence like carving your own path? That's why, for the true rebels at heart, we've found this super cool mod, which lets you take an alternative way in your Sim's future. Now they can leave their education and choose if they want to remain a High School Dropout, get an Adult Job for Teens and continue with Adult Career Outfit for Teens. This is an amazing extension pack, and it is wildly popular within the community. It is created by Telford and published on ModTheSims. To directly download it click here. Notice, some of the mods require the Get to Work and City Living expansion packs. If you have them, we recommend it 100%!
#2 Sims 4 Go To School Mod Pack
Doesn't it feel annoying sending your Sims to school and not really seeing anything of their education? Right, it sucks. Luckily, we've got another awesome pack for you. This one makes school actually fun by allowing you to follow your Sims in school. Classrooms, gyms, halls and locker room talks – everything is included! Now your Sim can make friends, pick subjects and enjoy school. Created by Zerbu in 2015, this mod is improved and built on many times. It is also tremendously popular and loved by many Sims 4 players. This extension mod can be downloaded from the Tumblr account: zerbu.tumblr.com or by following the direct link here.
#3 Elementary School – Go To School Mod
We wouldn't be we if we didn't find something for the Kids Sims too! Here is a wonderful Elementary School you can send them to and follow their school days closely. It has amazing classrooms, cozy ambience and beautiful design – everything your Sims need to feel inspired and ready to achieve their goals. This works as an addition to the previous Go To School Mod Pack and makes it more complete. It is created by Sim4fun and you can download it from modthesims.info or by clicking on the direct link here. Go try it!
#4 Willow Creek High School – Go To School Mod
And to complete the whole set, here is a brand new High School in Willow Creek. It is packed with dozens different rooms which your Sims can explore and participate in various activities. The school is built brilliantly once again, with everything that it needs and more. It is also one of the most popular mods with over 70,000 downloads on modthesims.info. And to get it for yourself, visit the page or follow our direct link here.
#5 No Goals Needed For School Mod
And now we have something a little bit different. This mod is a real quality of life change for every Sims 4 player. Why is it genius? Because it removes the need for your Sim to complete their goals in order to advance their grades in school. You won't even see those goals anymore and instead your Sim's grades will only be influenced by their work performance. You can find this most useful change on modthesims.info or you can download it directly from here. The creator is Reubenhood.
#6 No Grade or High School From The Start Sims 4 Mod
Have you ever dreamed of life without school? No early wake ups, no getting ready in a hurry, no attending boring classes? Just… living? If yes, then we've got the perfect extension mod for you which prevents your Sims from being enrolled in school. Now they can enjoy the world and pursue their goals with freedom! This mod is created by Azoresman and you also find it on modthesims.info or download it directly from our link here. Don't miss out on this one!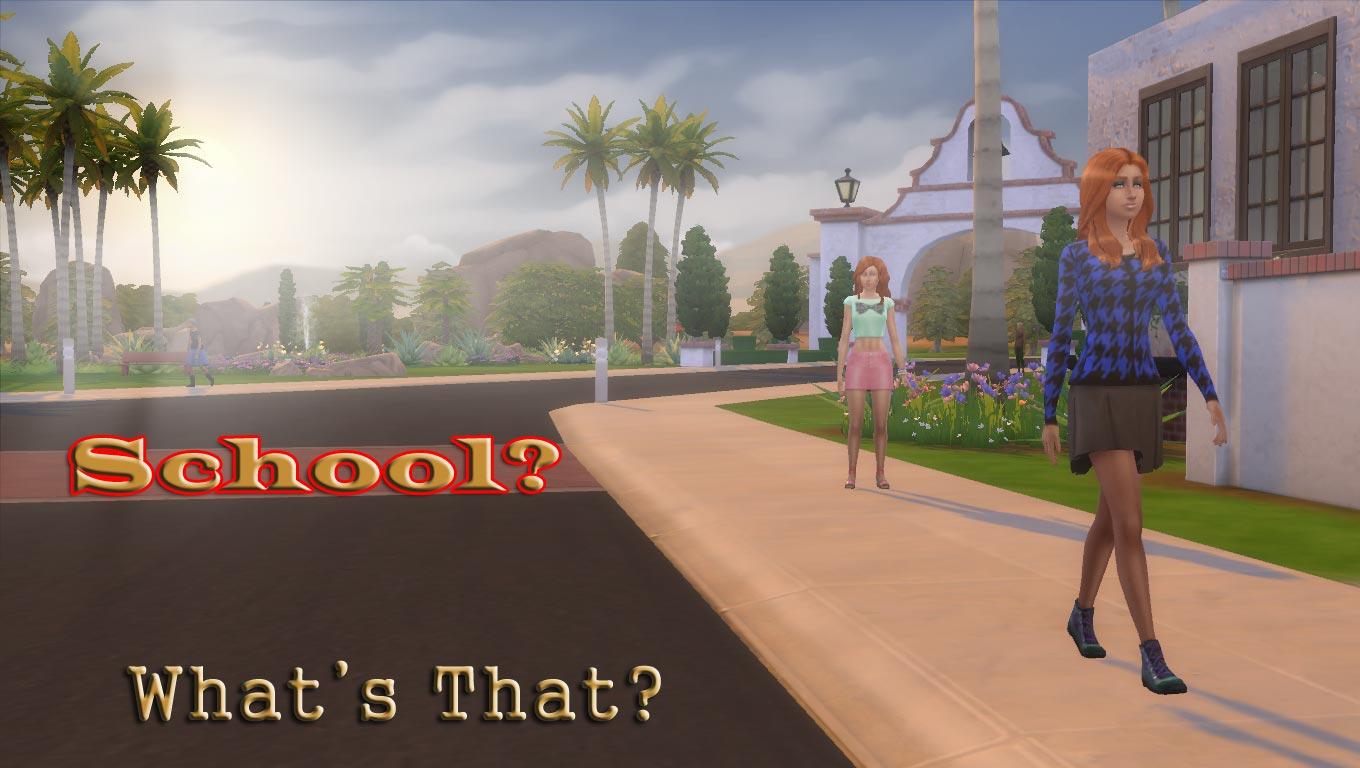 #7 Preschool Mod
And for the youngest we have brought you this amazing Preschool Mod. Now your toddlers can attend school, learn new things and build skills, which will be a relief for your adult Sims because they won't have to teach each toddler everything. This extension mod comes with many interactions and fun stuff that your toddlers can do. To download this fantastic addition click here and if you want to find more of the amazing creator (which you should) visit his page: kawaiistaciemods.com. Have a blast!
#8 Cheat Teen High School Performance and Homework fully Done for the Day
This mod is a real treasure! If you've ever run out of time to complete all your Sim's homework assignments, this will be perfect for you! This mod makes all the school requirements and homework to be completed without you spending even a second on them. It is really simple to use and very fun! Once again, you can find this mod on modthesims.info or download from our link right here. Try it now and enjoy your free time!
#9 Meet Sims Faster and Gain Work or School Performance Mod
Another quality of life change is this fantastic mod which speeds up the socializing of your Sims so they can make friends way faster. It also boosts their performance at work or school so they can advance quicker. This mod is also hugely popular amongst the Sims community and it is downloaded over 20,000 times. The creator is Claudiasharon and you can download it from our direct link here.
#10 Early Exit from School Mod
And for the end we have this amazing and helpful mod by Diffevair. End the school time earlier for your Sims and set them free to conquer the world! Make the boredom end and let the adventures begin! You can download this mod from modthesims.info or by following our direct link here. Don't wait too long for this one!
More related School Mod Stuff in The Sims 4
Sims 4 Better School Mod
The Sims 4 Better School Mod is an awesome way to improve the general school system in the game. It introduces quality of life changes and a bunch of new interactions.
For example, your Sim can now pay attention to their teachers or play games on their phones. The first interaction improves their school performance but the second one fills their Fun needs. Each interaction does different things, so you better check it out!
Here's where you can download the Better School Mod!
Sims 4 Go to School Mod
Normally, The Sims 4 doesn't let you interact with your Sims while they're at school. More over, your Sims disappear for a couple of hours when they go to school. Well, the Go to School mod changes that!
With this mod, you'll get two new avenues (elementary and a high school) and you'll be able to visit them! Not only that, but you'll be able to fully control your Sim while at school. There are classrooms, subjects, teachers… everything!
Click here to check this mod in greater detail!
No School Mod for The Sims 4
If school isn't your thing, then it's possible to completely skip it. Normally, The Sims 4 doesn't allow the option for our Sims to quit school. But the No School Mod solves that!
You can use this mod to quit or join a school in Sims 4, as well as to disable the auto-enroll to school option. It gives you more freedom over your Sim's future, which is a great plus in our book!
Here you can download the No School Mod for The Sims 4!
School Uniform CC & Mods
Looking for the right school uniform? Head over to our post on the best school uniform fan creations!
Sims 4 Private School Mod
The private school mod is another mod that we recommend to check if you are into school mods in The Sims 4. Check this post to find the awesome private school mod!
Sims 4 After School Activities Mod
If you are looking for awesome after school activities, you should have a look at this post!