Sims' Love for Gardening
We love the Sims4 game because it is based on interesting and real-life simulation activities; gardening is one of them. Those who love gardening and love plants and nature can have a completely new experience of the same while playing the Sims4! Yes, now you can customize your sims' gardens and yards into a great gardening spot where your sims can enjoy their gardening activities in the most adventurous and fun way.
Gardening Mods for Sims
Gardening Foyer plants – cactus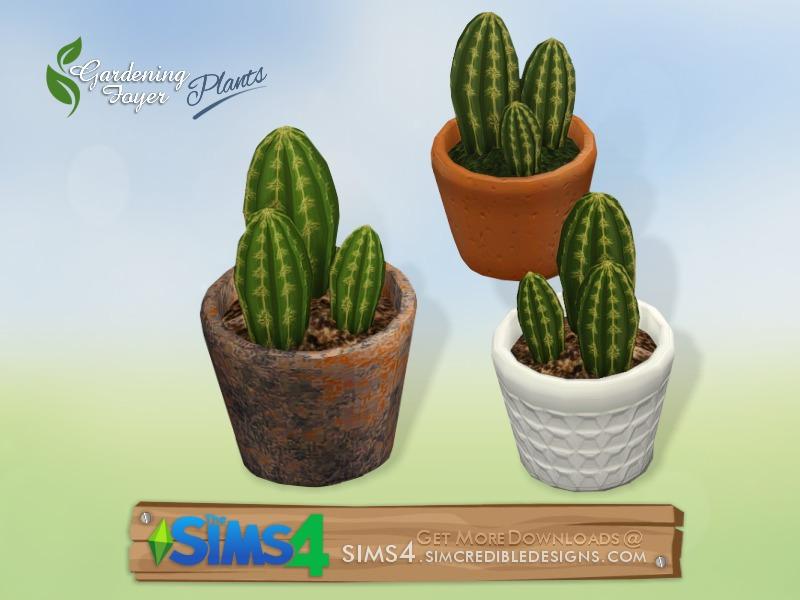 Who doesn't love cactus on the corner tables in the bathroom or living room or office table even? They look cute and refreshing. Get these gardening foyer plant cactus mods available in different materials-made pots.
Gardening Foyer plants – potted tree
Your sims might not have enough space for gardening or might not have a proper garden. There is a solution! Get a wide range of potted trees and let your sims fulfill their gardening fond with ease.
Gardening Foyer plants – edible herbs
Pasta, Pizza, Soups…you just name it and we would tell you that the things that make these so delicious are edible herbs. Now your Sims can grow the same edible herbs in their own home. Use these amazingly designed edible herbs mods.
Gardening Foyer plants – seedling bag
Nothing is refresher than seeing a seedling growing into a full-fledged plant. Your teen sims would love this activity of growing seedlings, watering them, and taking care of them. These seedling bags mods are something they must have!
Gardening Foyer plants – potted banana leaves
Want your sims to grow their bananas? Use these potted bananas mods and help your sims make a whole banana stock of their own. These potted banana pots are available in lots of varied colors.
Gardening Foyer plants – tea set
Do you know that a tea kettle was the most ancient form of the pot to grow plants? These beautifully designed and cool-looking tea set mods are an idea to grow all kinds of potted plants and herbs. Available in different colors.
Gardening Foyer plants – flowers in galoshes
Sometimes you can use gardening techniques to make some unique decorations. Look at these uniquely crafted flowers in galoshes mods that not only a great way to grow flowers but also give your place a striking appeal. Available in many styles and colors.
Gardening Foyer plants – plant large
If your sims love large plants, they might need a bigger space to grow them. If they don't have space, still you can use these large plant sacs for the same purpose. They will love the way they can grow their favorite large plants in a limited space.
Gardening Foyer plants – plant large B
Get this another version of the large potted plant sac that is great for all kinds of big plantation techniques, Your sims can now grow a whole garden with these amazing potted plants sacs.
Gardening Foyer plants – planter
When nothing makes sense, planters do! These sleek and professionally made planters are all for the best gardens around town. Turn your sims' outdoors into a full-fledged garden with these great planters that can also be used as an outdoor decoration. Different colors are available.
Gardening Foyer plants – seedling pot
No need to go for small cups and disposable containers for your sims to grow their favorite baby seedlings. These seedling pots have been designed to let your sims grow their seedlings in a personalized pot available in different colors.
Gardening Foyer plants – plant mid
Medium size potted plants are the most preferred forms of plantation in any garden. They are easy to manage and takes lesser space. Your sims can have their mid plants using these potted plant mid-sized sacs.
Garden pavilion
To give a more sophisticated and dedicated look to your sim's garden, these garden pavilion mods, available in minimalist design and different colors are all set to be tried.
egby garden sofa
After having their garden, what would your sims want? Of course, a relaxing and peaceful spot to sit and chill. Help them do so with these beautifully crafted garden sofa, made with sturdy wood and available in different colors.
kardofe_Kerala garden_Garland lights
Let your sim's garden shine through the night with these series of the garden light mod. These sparkling lights mods will make the garden look more beautiful and would also help the sims do their gardening activities even at the night.
[Garden Arbor] – pavilion
When it comes to a garden, we usually think of a special space full of plants, herbs, shrubs, and grass. Why not create such a spot with the help of this gorgeous-looking garden pavilion? Your sims would love this area!
[Garden Arbor] – sofa pillows right
If your sim's garden is all packed with luxurious sofas, but not with the sofa pillow, your sims can't have a fully comfortable time. So, just complete the look with these cool sofa pillows that look so comfy and cute.
kardofe_Kerala garden_Sofa
For many people, a garden is like a complete relaxing spot, where they can enjoy time with loved ones, reading books, talking with nature, etc. This 4-seater garden sofa mod will make the same environment for your sims.
Faster Gardening Mod v7b
Get the whole gardening mod with a complete list of gardening accessories, from plants to grass, to equipment, to furniture to lighting, to flowers, and so on. Customize it the way your sims would love to.
egby garden plant
These exclusive design garden plants look elegant whether you plant them in a pot or sac or tea set or even in the disposables. These mods are all set for all kinds of usage and applications for the gardening loving sims.