From Cozy to Stylish Living Room for Your Sim
A living room is the first place any guest would come in your house before they can make it to the kitchen, bathroom or bedroom. So your living room gives your guests the first impression on your taste, life-style, likings and dis-likings. It is also a place where you spend most of your time before going to bed. The living room has to be welcoming at the same time practical. Here you will find several mods that have many varieties. From cozy tight living room to futuristic to green to Scandinavian style living room. The variety will impress you! So find the best suited living room within your budget.
Get a beautifully designed living room for Your sim
CAS Backgrounds Living Room
Your living room needs to reflect your personality at one glance. Here are four different CAS backgrounds for your living room that are very creative. Two of them are very futuristic with topnotch furniture, and minimalist interior design. The other two are very different from the first two, one is retro with an old look and the other is futuristic combined with natural interior design.
Africa Living Room Set
If your roots are from Africa or you like that continent in general then this is the perfect living room for you. Everything in this living room gives tribute to African culture. The couch, the curtains, the chair have tiger printed fabric on them. There are three large wall hangings with elephant, giraffe and zebra painting. The walls are simple grey color with real brick like texture.
Cheerful Living Room Set
The set itself is called the cheerful living room for a reason! Everything in this set is very vibrant, colorful and sends a positive vibe to the brain. The couches are red, with printed fabric pattern in the middle section. The curtains and walls are also very graphic and cheerful. It almost looks like a fantasy studio where people could take fancy pictures of themselves.
Living Room Set Blue
This is a very simple blue themed living room set that would suit people who are looking for living rooms with reasonable budget. The set consists of three couches, two regular stand lights, one cherry blossom planter, and two windows with wooden front. It comes in four variations. In each variation you will get a different carpet, different pattern of lights and couch.
TS2 to TS4 Alex Living Room
This is a very modern living room with a great futuristic fireplace at the corner. The couches itself looks very sleek and fashionable. They come in white, black and grey combination. The wall above the fireplace is made of marble stone. On the windows, instead of curtains, there are roller blinds. Overall the living room is sleek and topnotch.
Kitchen & Living Room
This is the modern living room with kitchen combined. Most places in urban areas are very congested and have little space. Keeping that in mind, here is a modern, minimalistic living room with very topnotch furniture. The color combination is white, black and grey. There is a modern fireplace, a fancy Victorian painting on the wall, few bookshelves and couches.
Cozy Living Room
This is a realistic cozy living room with everything placed in a tight way which many people will be able to relate to. There is a computer table and chair at one corner, so it is a working man's living room. There is a fireplace, couch, divan, a glass center table, and a white table lamp. There is also a bookshelf at one corner and right beside the bookshelf there is a ladder. The curtains are white and kind of see through.
Kitchen & Living Room II
In this mod a green vibe is overpowering but you cannot complain about it as everything blends well together. This living room would please those who enjoys a delicate looking living room. The color combo here is green, white, off-white, blue, and grey. It is a modern living room with kitchen attached. You can see everything that is going on in the kitchen from the living room. The wooden center table is the main attraction of the living room. The paintings on the wall are also very aesthetic.
Cozy Living Room II
This is another cozy living room with many essentials things put together in a casual manner. There is a reading corner on the side which is separated with a glass door. There is a reading table with a laptop, a little cabinet, few wall hangings and a handmade rug. In the living room area there is another Turkish rug and an old grey couch. There is a large standing lamp, and at the corner there are many tiny showpieces arranged.
Vintage Living Room
This living room is very special. It has a very vintage vibe to it. It almost looks like a café because of its casual and warming décor. From the white chair, the beautifully vintage designed rug, the beautiful flower planter, a shelf full of green small planters, and a see through window is what makes this living room very special. The color combo is eye soothing too.
Modern Living Room
It is not your average living room. It belongs to the higher class with sleek and topnotch trendy décor items. The theme is white. There is a large crystal which enhances the room's aesthetic. The couch looks cozy, trendy and modern. There is a artistic painting at one corner. The chandelier is eye catching.
Celia dining and living room – Fireplace
A fireplace is a signature household necessity for people living in the cold countries. It is difficult to survive during the winter without any fireplace in the house. This fireplace is made of marble stone and it is in pure black color. The look and design of it is simple but when you install it in the living room, it will transform your entire living room.
Melina Living Room Pouf
When you are decorating your living room, it should be in sync with the walls, the carpet, the fireplace, the shelves and other decorations. These are flower shaped poufs that look absolutely adorable. They come in four different color combinations. All of the poufs look very trendy and funky. They will suit a living room of someone who takes life lightly and enjoys every bit of it.
Melina Living Room Painting with Arrows
Paintings are a crucial part of décor! They have the ability to transform a room completely. Even if you do not have too many furniture in the room, one or two paintings can make your room look good. Here are three paintings made with simple arrow signs. The idea is extremely simple but it looks very artistic.
Melina Living Room Decorative Shelves
Modern house is all about saving space and keeping the rooms neat and clean. But you need storage spaces for little knickknacks here and there. Here is an artistic solution with these deco shelves. You can add them anywhere in the house but they are meant for your living room. They come in three light colors, red, green and blue.
Melina Living Room Bookcase
Who does not love books, right? Those who loves to read also enjoys showing off their books in their living room. To keep your books organized, here is a bookcase in the shape of a little house. It looks very beautiful and it is very tidy too. You can store other things here too. They come in three colors.
Melina Living Room Dresser
A dresser in your living room can look cool when you choose the design wisely. Like this dresser, that looks almost like a décor item with beautiful house shaped head. It has two different slots where you can store tiny items. There are three color options. The star design on one part adds more beauty to the dresser.
Melina Living Room Coffee Table
A coffee table is a must in your living room. No matter how small your living room is, you can always make some space for your coffee table. These coffee tables are so unique that they look like swings that are actually hanged from top. They come in three color variations.
Mist Living Room Decor
This living room décor is dedicated to a reader. A reader loves to display their favorite books in their living rooms. In this décor, you will get fancy and aesthetic books lined up on the table, two dimensional showpieces in golden color, a planter, and a artistic tree painting. It gives the entire room a glance of the person living in the house.
Cleo living room furniture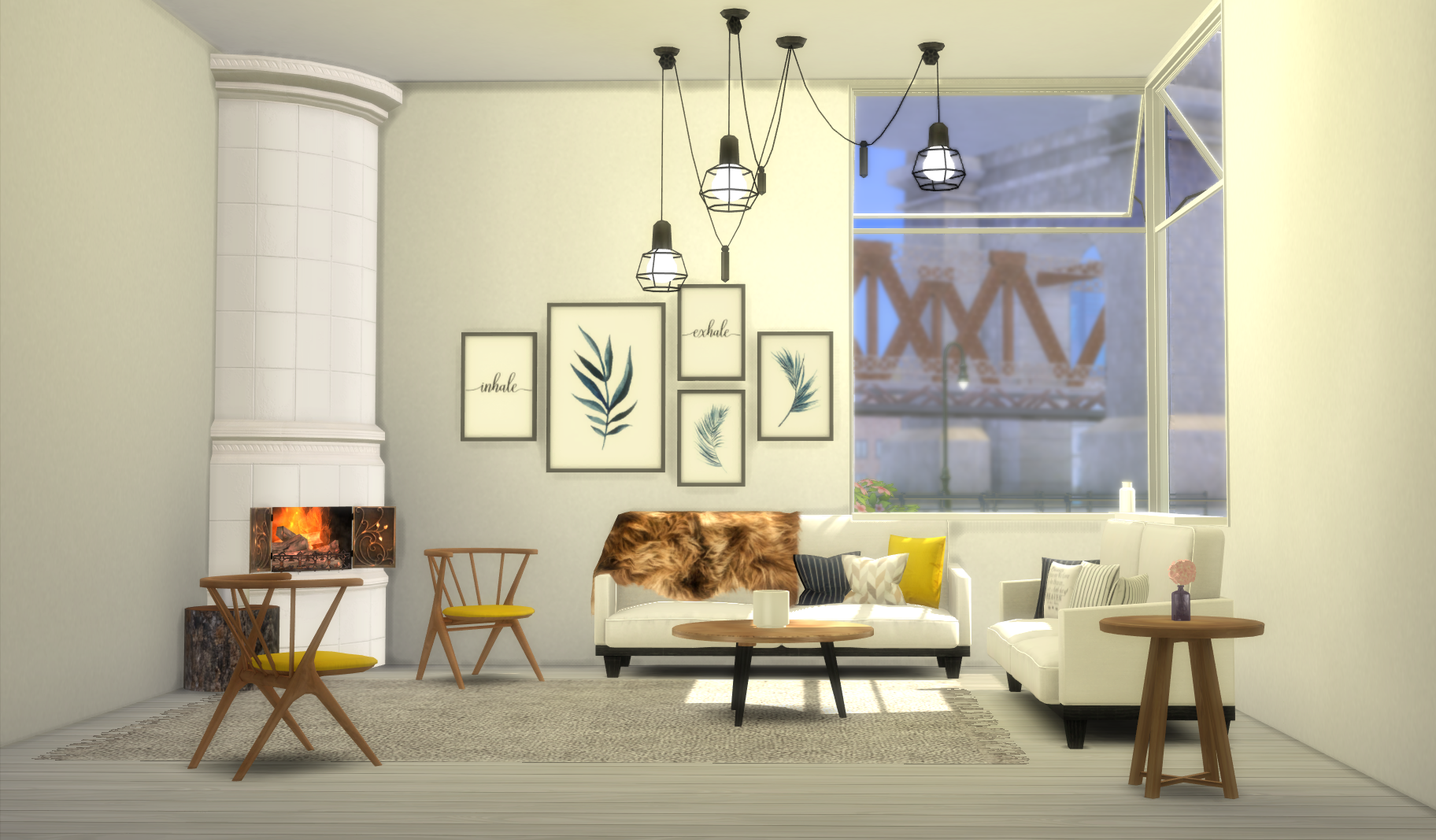 This living room is very expensive one. It is in the Scandinavian style. The whole theme is white based. You will find an old school fireplace. From the paintings on the wall, the animal rug, the sofas, the chairs, the planter and the small decors, everything is aesthetic.
Erin Living Room
This is the modern day living room with everything lined in a perfect manner. There is nothing extra here. Everything just blends well with each other. The theme that is overpowering here is black and white. It is trendy and very futuristic looking.
Mist Living Room
This Mist living room comes with a very elegant décor. The theme is mainly black and white. The rug, the shelves, the tiny décor items on the shelves, the greenery, the plant wall hanging, and the coffee table, everything is artistic in this living room. If you love greenery then this living room is for you.
Neodymium Living Room
The vibe of this living room is very elegant and modern. The rugs look very stylish with checker board black and white prints. The fireplace is very classy. The sofas are modern and cozy. The coffee table is wooden and round and has candles and planters on it. The painting on the wall is very artistic too.
ScandiFever Living room
This is a modern take on the Scandinavian styled living room. The fireplace is very old style but looks very elegant and trendy. There are lots of colors blending in together in this living room. You will see white, black, blue, grey, brown and some peach. The pillows look very trendy in this room. The decor on the coffee table is unique too.
Vega living room
This is another modern take on the Scandinavian style living room. The main color theme here is white, black and brown. It has two wooden coffee tables with tulips on them. You can choose the color of the tulips. There are several large planters in the room. The lamp is very creative.