If you haven't been living under a rock, you'll definitely notice that plaid skirts are bubbling up. And they have been in the spotlight since the beginning of dawn. But as of late, everyone wants a comfortable, trendy and most certainly fashionable plaid skirt -even our female sims! So, we've compiled a list of awesome plaid skirts custom content for the Sims 4. Let's have a look!
Plaid Skirts for Your Female Sims
[Ryuffy] Ribbon Plaid Skirt
This plaid skirt caught our attention right away. If you'd like your sims to be in the spotlight and show off their fashionable style, this is the skirt they need. It's available in 12 unique swatches. Head over to this page for easy installation.
plaid suit
A gorgeous plaid suit by 333. It's high-class and comes in a variety of ten colors. From this set, you get plaid skirts, tops and even jackets -plenty of plaid options there. To download, visit this link.
Plaid dress
This is the type of outfit you look at and go: "Dressed to kill!" Your female sims will surely need at least one plaid dress in their closet. You get 10 different swatches from this set. To download, click here.
BG Skater Skirt
If your sim character is a drama queen, this skirt is the perfect pick. Gloomy plaids is recolor set containing 10 swatches. Check it out here.
PLAID SET
A plaid set that brings back school vibes! A skirt and jacket in addition to colored tops. You can download this set by visiting this page.
clothing Lucy Plaid Mini Skirt
A plaid skirt for your female sims from teen to elder. It works on all body sizes and is definitely a charmer. Here's your download-link.
Personal Plaid Recolor
One of our favorites so far! You have to get the original mesh for it work well in game. This recolor introduces 20 new plaid swatches. You can download by following this link.
plaid mini skirt by waekey
Your teen, young adult, adult and elder sims can wear this plaid skirt. We could only imagine a grandma sim wearing this skirt. It's available in 5 colors. To download, head over to this post.
Plaid Skirts Custom content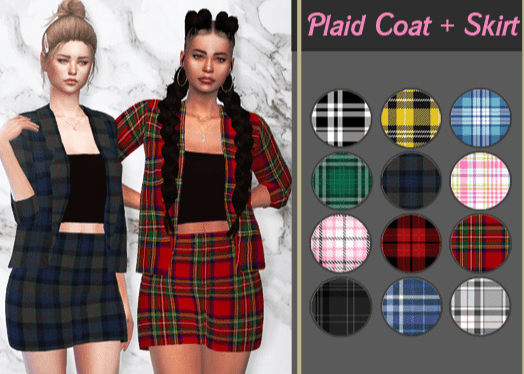 You're getting both a two thirds long sleeve coat and skirt from this set – both are in plaid. They're available in the showcased colors. To install, follow this page.
Poptart Skirt
We're in love! This skirt is available in 20 plaid swatches. Don't single out your sims and go grab it right now. To install, click here.
We've come to the end of our list. We hope you enjoyed this collection of plaids skirts custom content. You could either head back to the main post for a wide variety of custom skirts for the Sims 4 or check more related content below. Enjoy!
Related Content: